A detailed project posting is critical to quickly matching with high-quality Experts on the Catalant platform. This document is intended to guide you through the process of structuring and scoping a project. Take time to think through the following categories and questions before posting your work.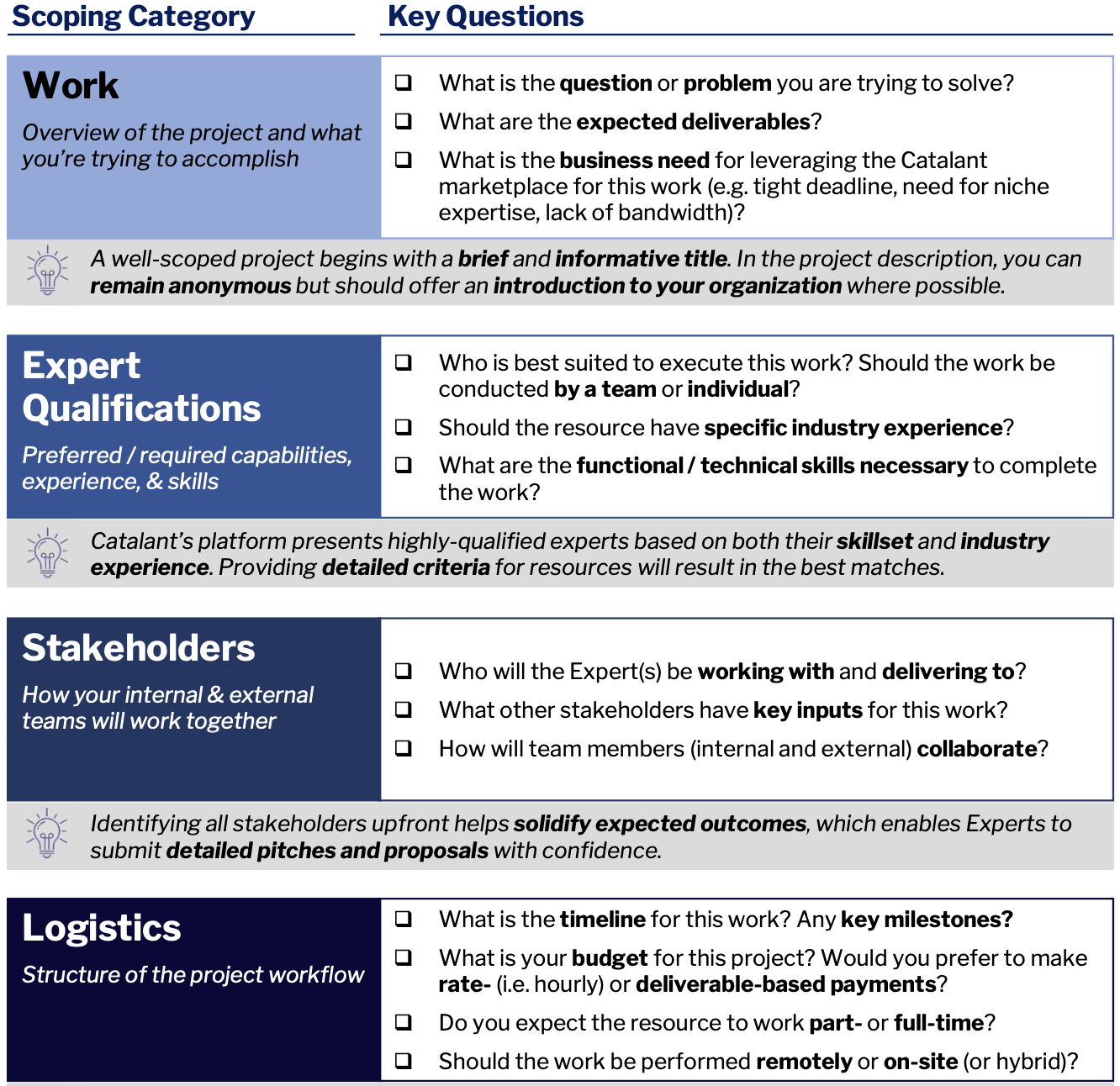 Please see three examples below:
1)

Pharma Software Market Study
We are a multinational holding company looking for an expert who can help us understand Life Science/Pharma Software markets.
We are looking for a consultant who can map out typical pharmaceutical production process and value chain to understand the use and importance of various software throughout the process. Please submit a pitch if you are familiar with/have experience with ANY part of the production life cycle and accompanying software. We understand one consultant may not have experience in every part of the pharmaceutical production life cycle:
• Pre-clinical study management, drug formulation development, manufacturing batch records, manufacturing process control, EH&S, clinical trial management (e.g., Medidata), regulatory submission and review (e.g., Veeva), safety/medical device recall (e.g., Pharmacovigilance like Saama), legal/IP, supply chain management/Track & Trace (e.g., MasterControl, Tracelink), Martech stack (e.g., Bynder), and commercialization tools (e.g., CRM Veeva/IQVIA), patient engagement tools
• Not in the scope: R&D / Lab notebook software specifically excluded from scope
Deliverables/responsibilities include:
Estimate market sizes by key segments and market share by competitors on a mekko

Describe key personas (users) in the workflow & show what problems the software

solves/supports

Understand customer's buying process/behavior and pain points

Common sales channels of software companies in the space including strategic integrators /

channel partners

Describe how data is shared / connected through API's if applicable

Profile the key players w/ key products and basic financial estimates

Layout competitive dynamics with key players within key market segments
Key players to profile include: Veeva, IQVIA, Saama, Medidata, Wolters Kluwer, ArisGlobal
Ideal candidate profile:
Prior pharmaceutical experience or consulting experience in pharma

Specific experience in software markets

Knowledge of drug supply chain including PBM's, payors, and drug distribution companies
2)

Market Assessment to Better Understand Air Quality Consulting ("AQC") Sector
We are a leading middle-market private equity firm looking to better understand the Air Quality Consulting ("AQC") sector as a new adjacent service offering for one of our portfolio companies. We very recently completed a large adjacency strategy study with a top consulting firm which helped identify AQC as an adjacent market. We are looking for help in taking that high quality study one level deeper.
Scope:
Define market sub-segmentation and various services within Air Quality Consulting, particularly Air Quality Control Consulting, Greenhouse Gas Reporting, and Environmental Compliance / Permits.

Craft detailed summaries of the types of services offered, competitive dynamics, key purchasing criteria, and technical capabilities needed, by subsegment.

Describe primary end markets and representative customers across each sub-sector.

Overview of the competitive landscape by sub-sector, including the leading players and how

they compete / differentiate, their financial profile, how attractive their services provided / customers served / markets served are, and particular factors that will drive their success and enable growth.

Define the depth of each sub-sector and rough outline of the # of competitors by size (i.e. how fragmented is the market).
Engagement Details:
Deliverable consists of a PPT document covering the points of the scope.

This work can be done remotely and we are looking to speak with qualified candidates during the week of 11/29. Please include a work sample of prior assessment work.
There's a preference for anyone who has experience in the environmental services and / or Testing, Inspection and Certification (TIC) sector.
Target start date early / mid December. Anticipated duration of ~2 weeks.
3) Strategy Consultant to Help Stand Up New BU
We are a F500 seeking a strategy consultant to help as we launch a new BU. The objective of this team is to evolve the strategy and delivery of the new clinical trials business unit for launch in Q1 2021 and ongoing 3-5-year planning and delivery. It is responsible for both business unit and portfolio strategy, along with commercialization of the core clinical trial produces and services, serving as an incubator for launching and scaling new products/services in the future.
The consultant in this role will partner with internal stakeholders support the long-range strategic planning and financials for the clinical trials Services Business Unit. This includes managing timelines, communication, meeting conduct and deliverables while working across the organization with various stakeholders, coordination and management of related strategy sub-team meetings. This individual would also assist in presentations and manage the online repository of materials and submission.
Key Responsibilities:
1. Supports business unit and portfolio strategy development for our 3-year planning process 2. Partners closely with key internal stakeholders to ensure coordination and completion of the
GTM strategy and plan which includes product portfolio, sales/business development,
marketing, and communications
3. Coordinates communication, sub-team meetings and deliverables for plan completion
4. Supports and drives reviews and submission of plan components, inclusive of Management,
Finance, Legal, Regulatory and Privacy processes and approval.
Essential Qualifications and Functions:
Demonstrated proficiency/experience in strategic thinking, strategy development, strategic planning and/or Go-to-Market planning

Product or brand management experience (commercialization)

Demonstrated project management and strong teamwork skills across complex projects and

with multiple stakeholders

Solid analytical and presentation skills

Pharmaceutical industry experience preferred (E.g., clinical trial experience, commercial brand

management, clinical research organization (CRO) experience)