Summary
After reviewing an Expert's pitch, the Client may decide to schedule an Interview call. This call enables both the Client and the Expert to evaluate the opportunity to work together: the Client can better evaluate the Expert's experience and narrow the list of expert candidates, and Experts can gather information about the Client's needs in order to further scope the project.
Scheduling a Call
Clients can schedule a call with Experts by following the steps below:
Click on "Schedule Call" under the "Evaluate Experts" Tab

Or via the Pitch View:

Select Your Available Times, then click "Share Availability"

NOTE: You can click on a box to select an available time, or click and drag to select a window of available time on the calendar. You can additionally select available times over a range of dates, you're not limited to a single day. Note that you're choosing times in your own time zone, but the technology automatically shows the availability in the Expert's time zone. Once your availability has been submitted, call times will await the Expert's confirmation:

(Optional) Click Add To Calendar
Once schedules are aligned and a call time has been determined, the scheduled call will appear. Click "Add to Calendar" to automatically add the call as an event on your own calendar: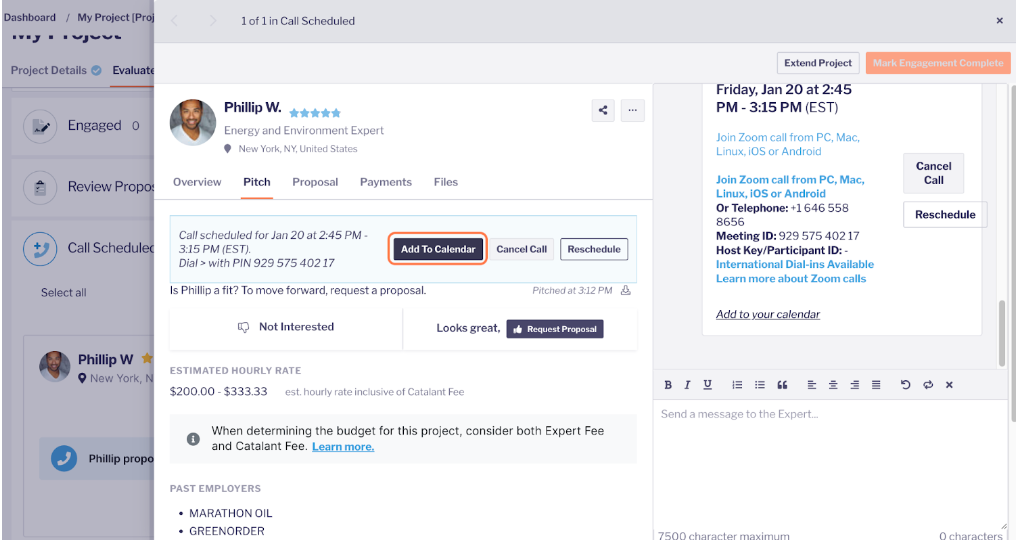 Preparing for the Interview Call
This call is an opportunity for the Client to share more details about the project and to learn more about the Expert's relevant experience. To prepare, you can download the Expert's pitch to PDF, share the Expert's profile with the other collaborators, and more.
The typical agenda includes but is not limited to:
Professional Introductions

Reviewing the Project Details

Refining the Approach & Deliverables

Reviewing the Expert's Relevant Experience

Discussing the Anticipated Timeline

Confirming the Estimated Rate and Budget
FAQ's
Is scheduling a call mandatory?
While interview calls are not a mandatory step in the process, we do see better outcomes when these calls take place. If you feel confident about the Expert you've chosen, you can select "Request Proposal" to move on to the next step. For more information on proposals, please visit here.
Can the Expert propose other times?
The Expert may choose to accept your proposed time or request an alternate time. You may also propose alternate times until one is found that suits both parties.
Can I cancel a call?
Yes, you can cancel a call by clicking on "Cancel Call" as shown below: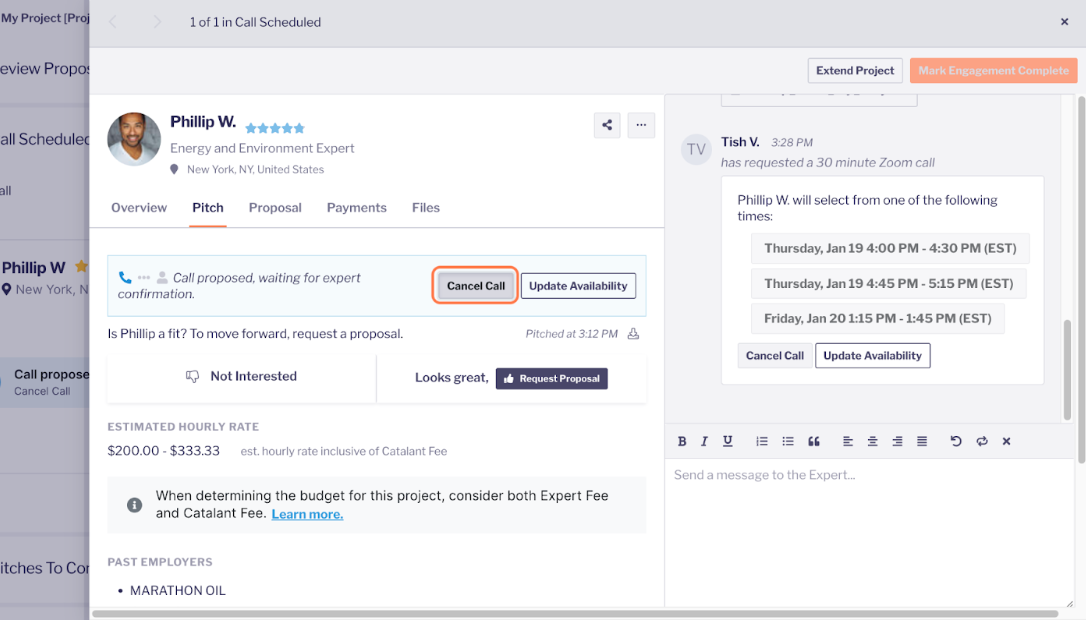 If you have any questions or need assistance, please contact Catalant Support at support@gocatalant.com.