Summary
Once a project is posted, Experts can submit a pitch as an initial expression of interest and to introduce themselves to a client in response to a project posted on Catalant.
This article will cover the following:
Clients can view and respond to these pitches in the project workspace alongside a view of the Expert's profile.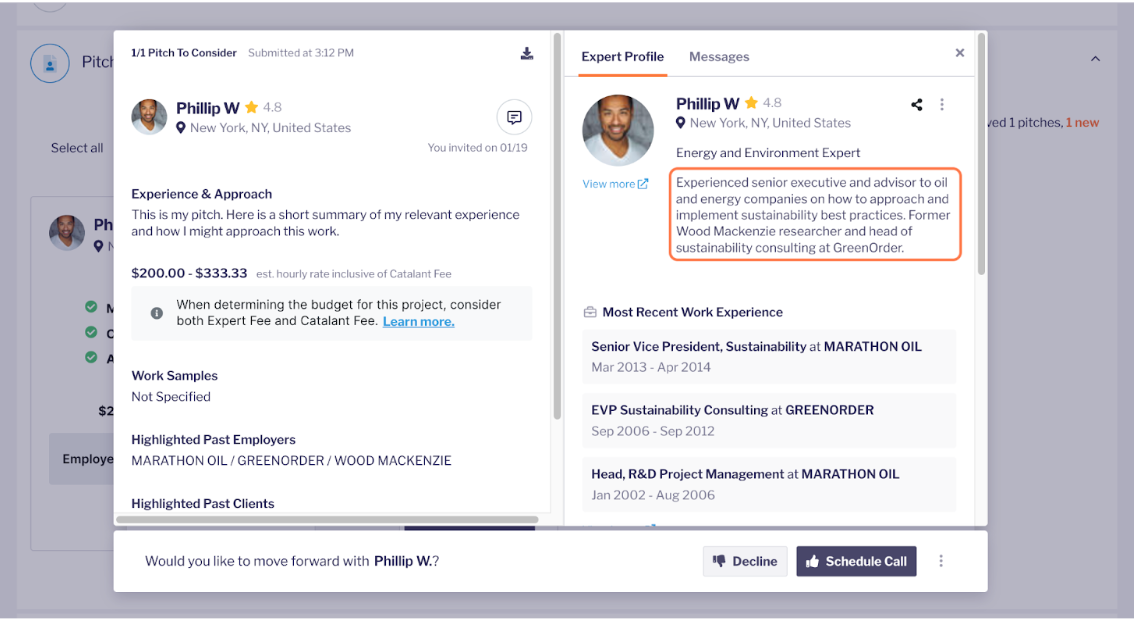 Experts are asked to submit a pitch with the following information:
Up to three employers from their past experience that is most relevant to the project posting

Optionally

: Up to three clients from their past projects that they have permission to share

A summary of their experience and proposed approach to the work

Their estimated hourly rate

Optionally

: Work samples to give the client a sense of what their work product looks like

Their availability for the project
Features to Explore when Reviewing a Pitch
Downloading a Pitch
Clients can download the Experts Pitch to a PDF.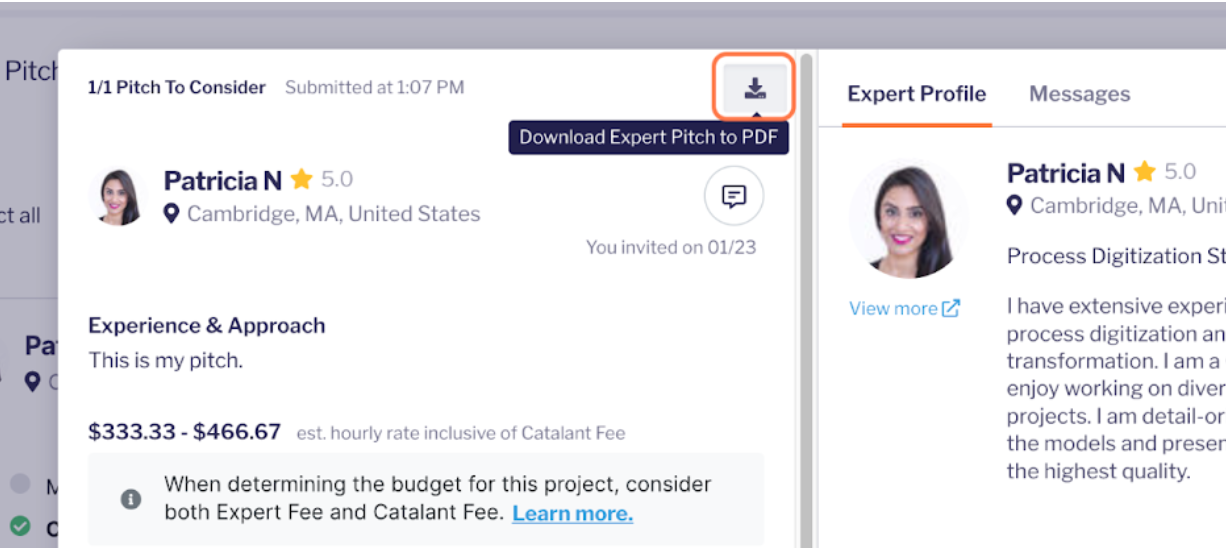 Experience & Approach
Experts can elaborate on their relevant experience and provide a short summary of how they might approach this work. This is a great place for Experts to ask clarifying questions and provide their perspective on how to resolve the needs listed in the project details.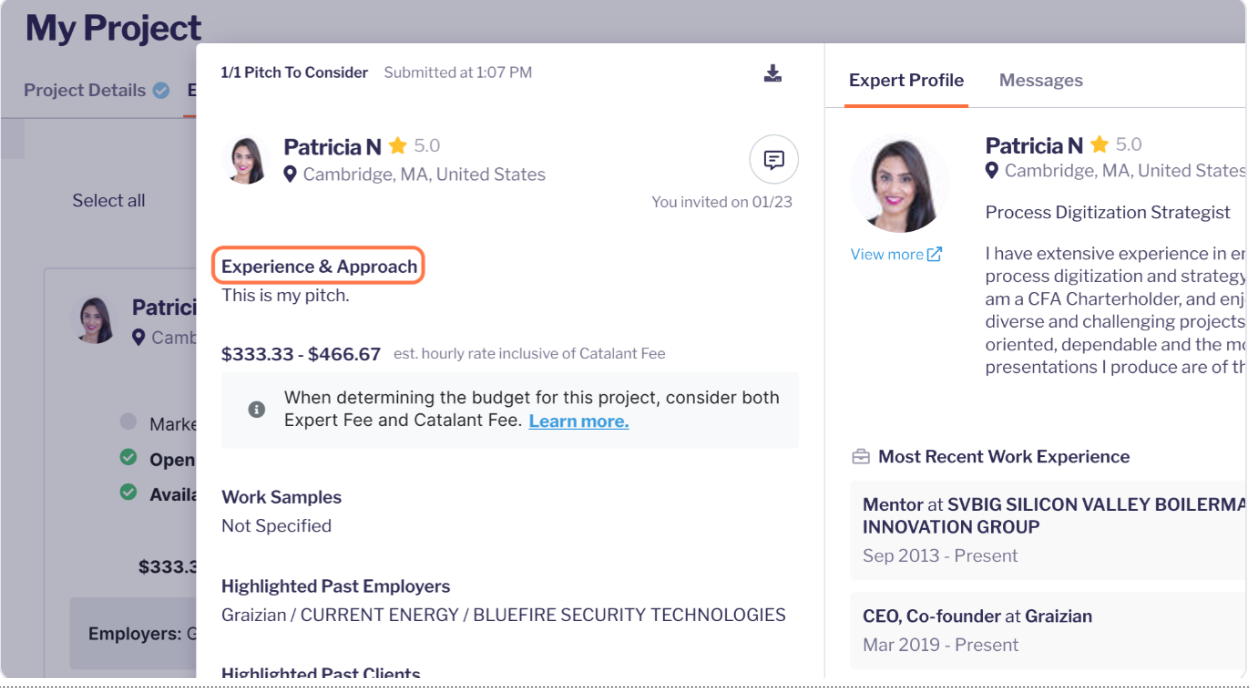 Estimated Fees
Clients should consider the estimated hourly rate when reviewing a pitch.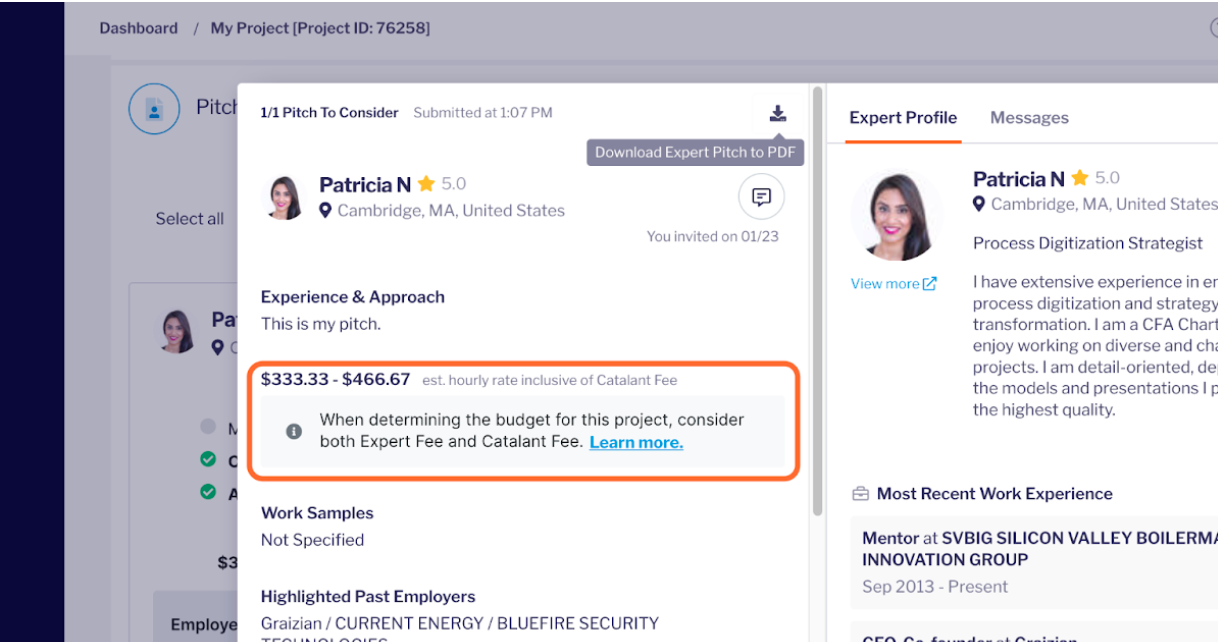 The estimated hourly rate reflected below is inclusive of both the Expert and Catalant fee. Click Learn more to see an example of the Project Fee Breakdown: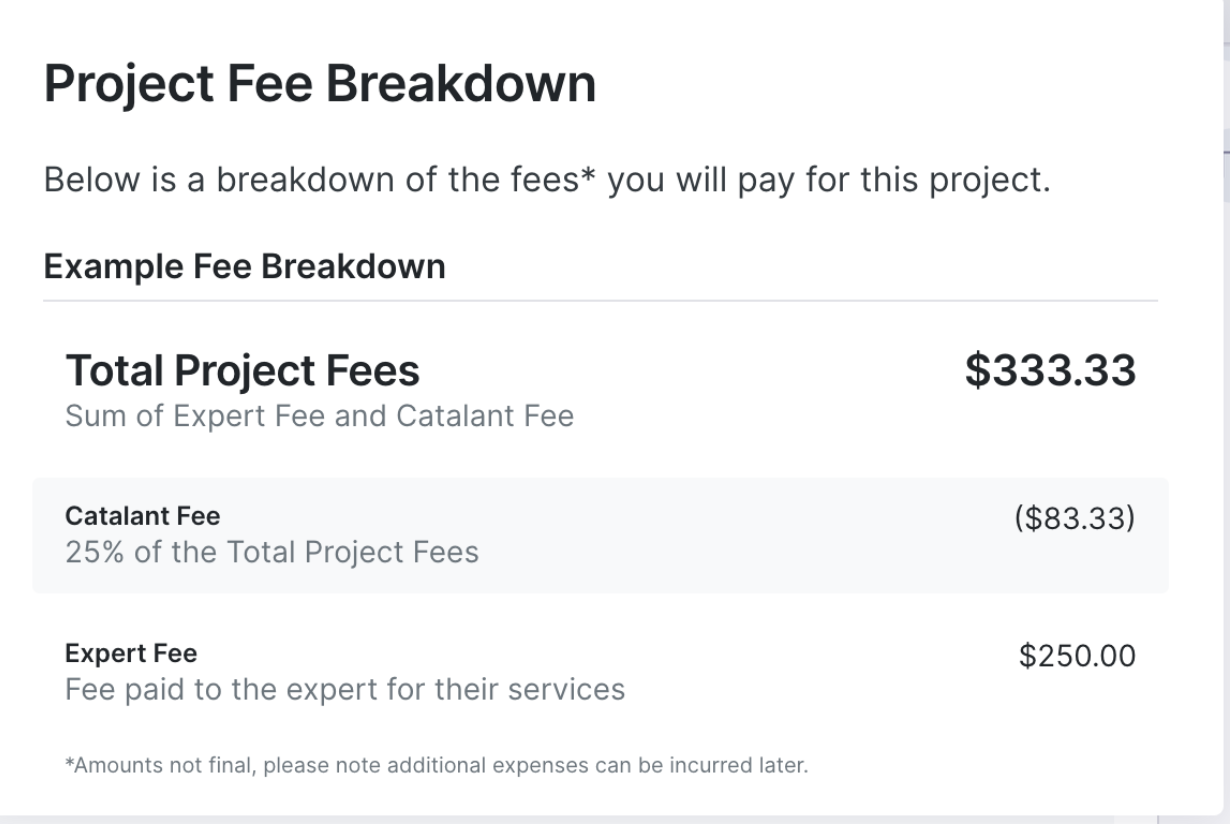 Share Expert Profile
Clients can share an Expert's profile with their teammates by clicking the share button, shown below. By sharing an Expert profile, the teammate will be prompted to sign in or sign up on the Catalant Platform to view the Expert. Unless that teammate is also a project's collaborator, they will not see the project details.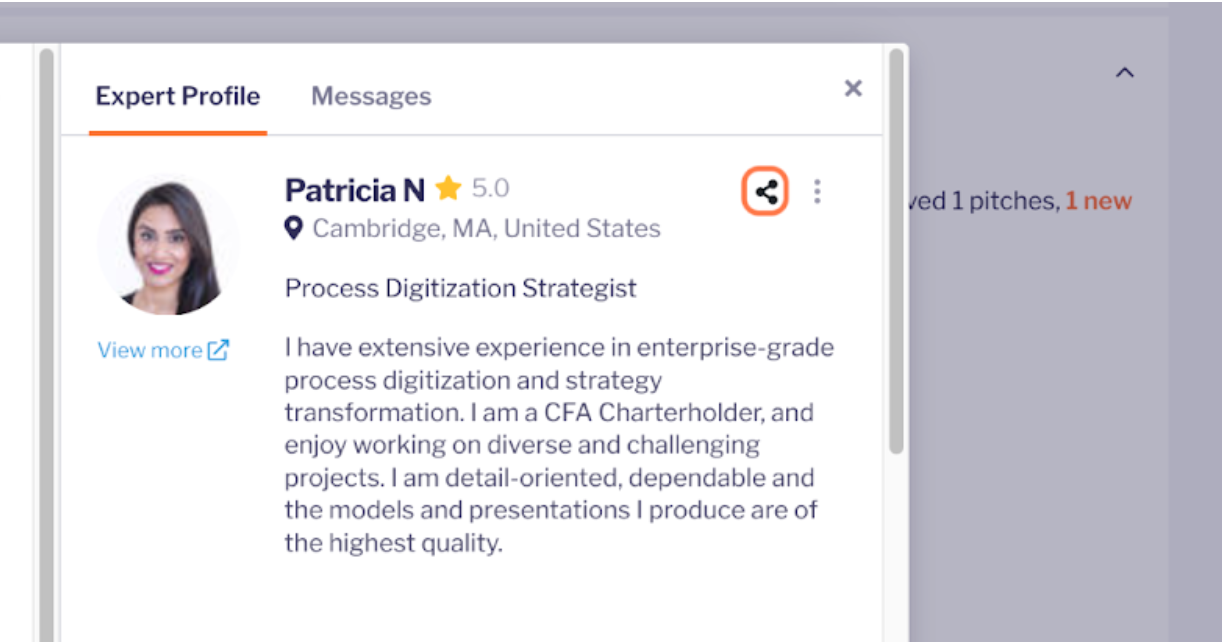 View Full Profile
Clients can view the Expert's full profile by clicking View More.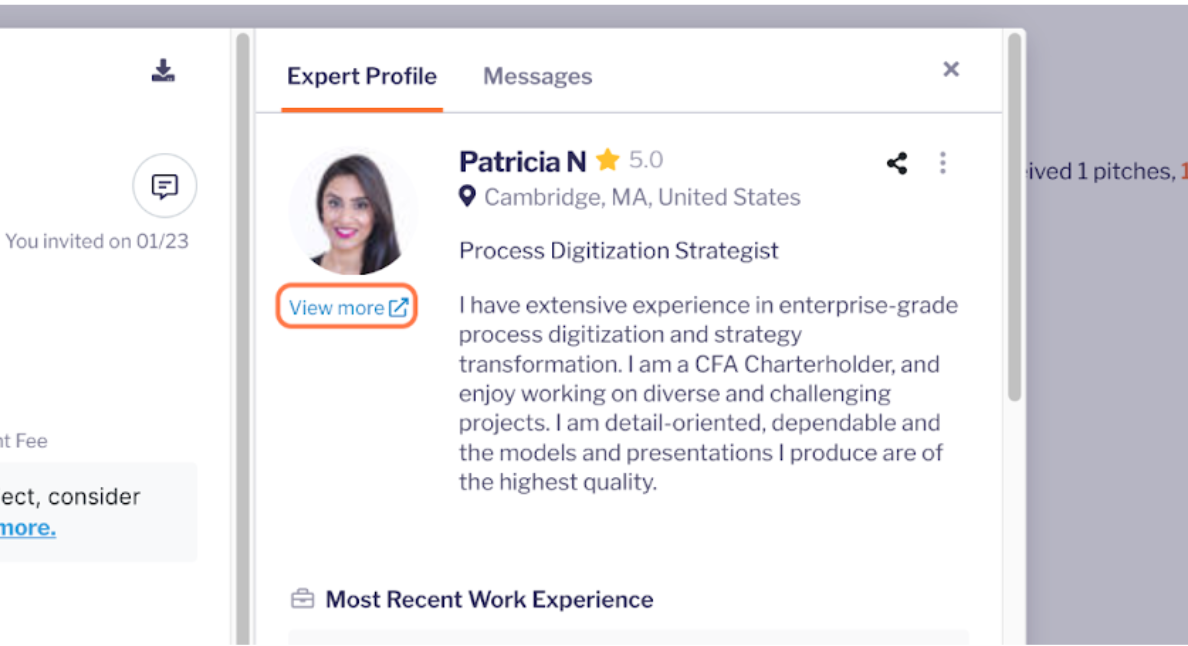 Add to Roster
Project owners and collaborators can add Experts to Rosters. Rosters are groupings of Experts that can be saved in convenient lists for quick future reference.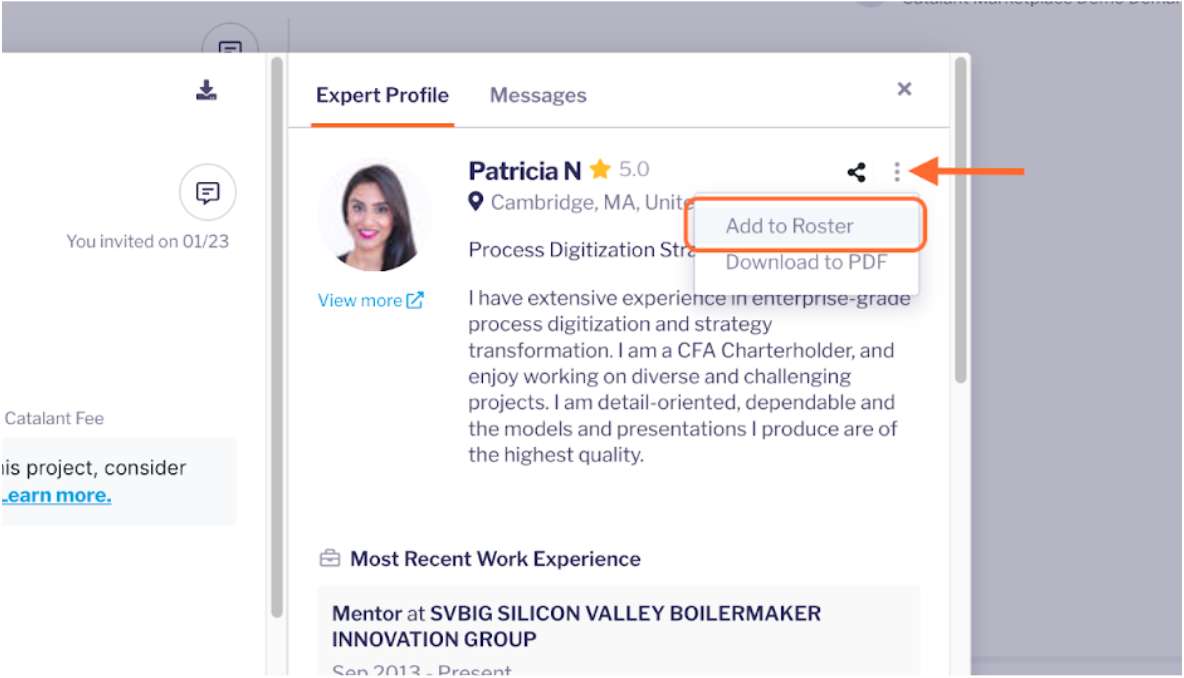 Message the Expert
This feature allows Clients to message the Expert. Clients can communicate with the Experts directly regarding their submitted pitches prior to scheduling a call.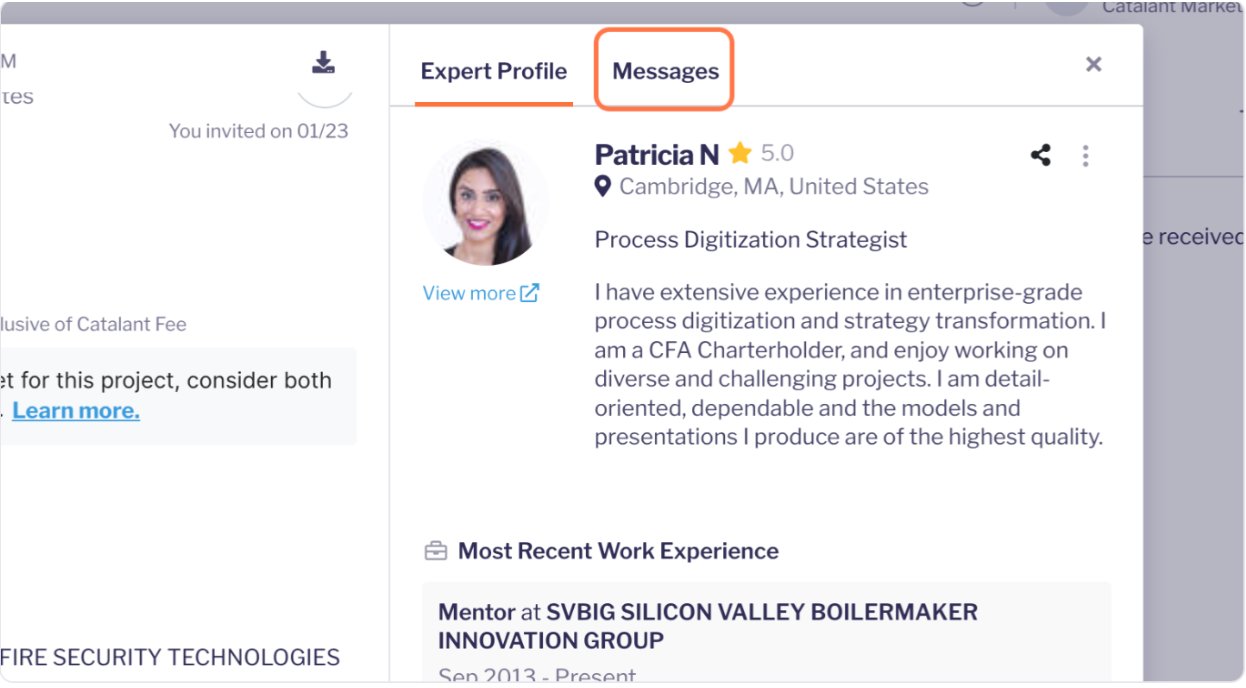 Scheduling an Interview Call
If the Client wishes to proceed with the Expert after reviewing their pitch, the next step is to schedule an interview call. The call is intended to help the Client to learn more about the Expert's experience and discuss the project in more detail. To do so you may click on the blue "Schedule call" button.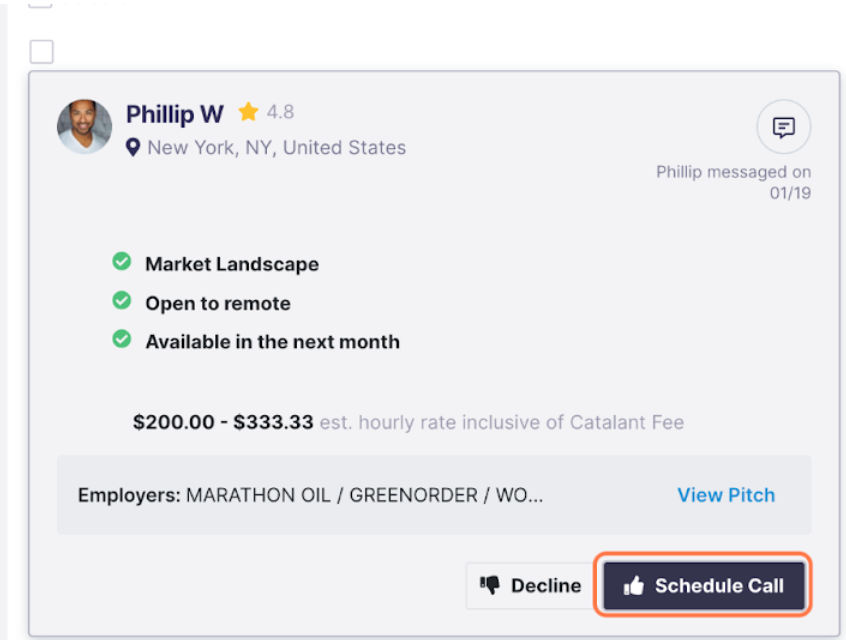 ​​
Declining a pitch
If you do not wish to move forward with the Expert, you may decline the Expert.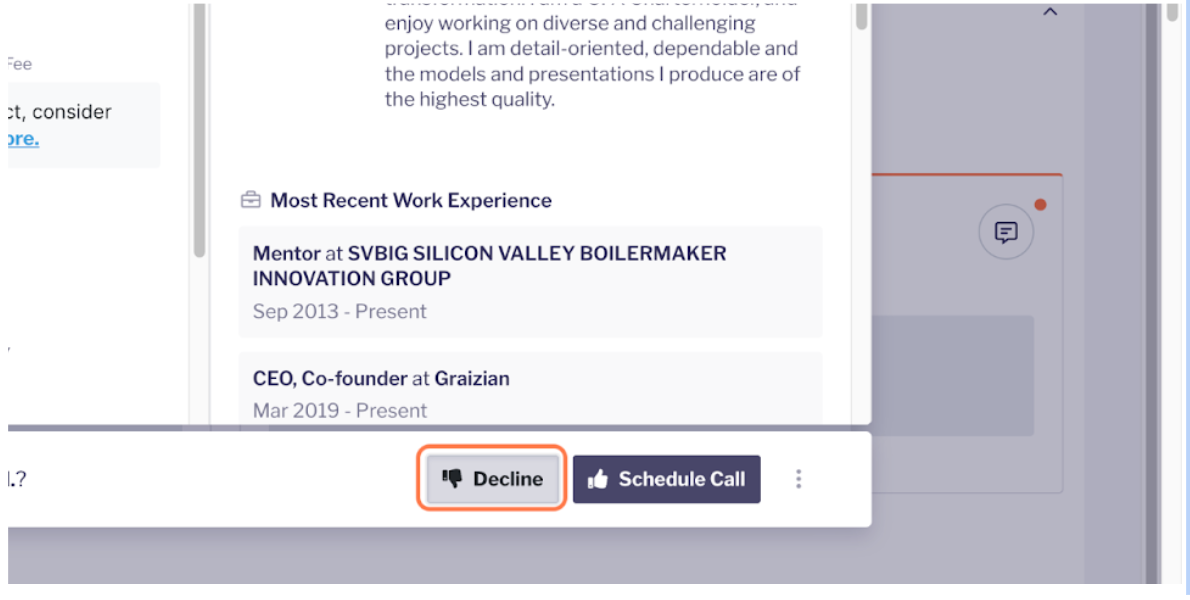 Here, you may provide brief feedback for both the Expert and Catalant. As a best practice, we recommend providing brief feedback on why the Expert may not have been a good fit.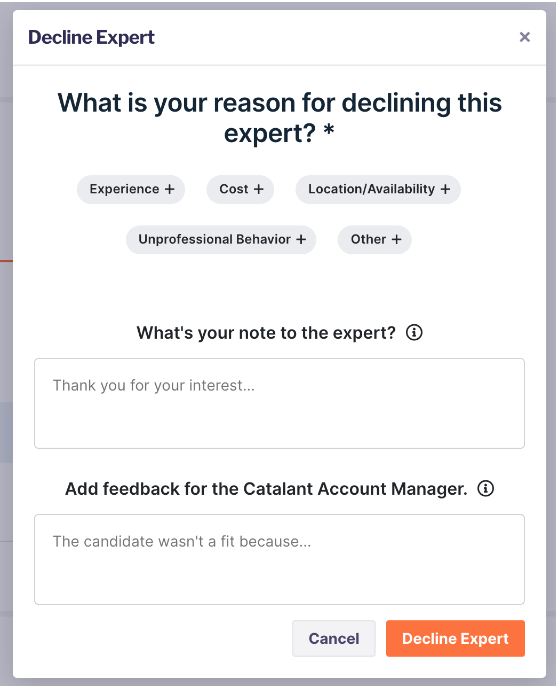 FAQ's
When will the pitches be available for review?
Clients will be able to review submitted pitches once they have been screened by a member of the Catalant team. You will receive a notification once they are ready for review.
Why hasn't my project received any pitches yet?
If you're working with a Catalant team member on a project, please contact them directly to check the project workspace. All others, please contact support@gocatalant.com for assistance.
If you have any questions or need assistance, please contact Catalant Support at support@gocatalant.com.