The scoping call enables both Client and Expert to evaluate the opportunity to work together. It also:
Allows the

Client to better evaluate the Expert's experience and narrow the list of candidates for the project

.

Gives Expert the ability to gather critical information about the Client's needs in order to further scope the project.
Prepare for the Call
Once a time to speak is confirmed, Client can save the calendar invite via email or on the workspace. The calendar invite will include the dial-in information.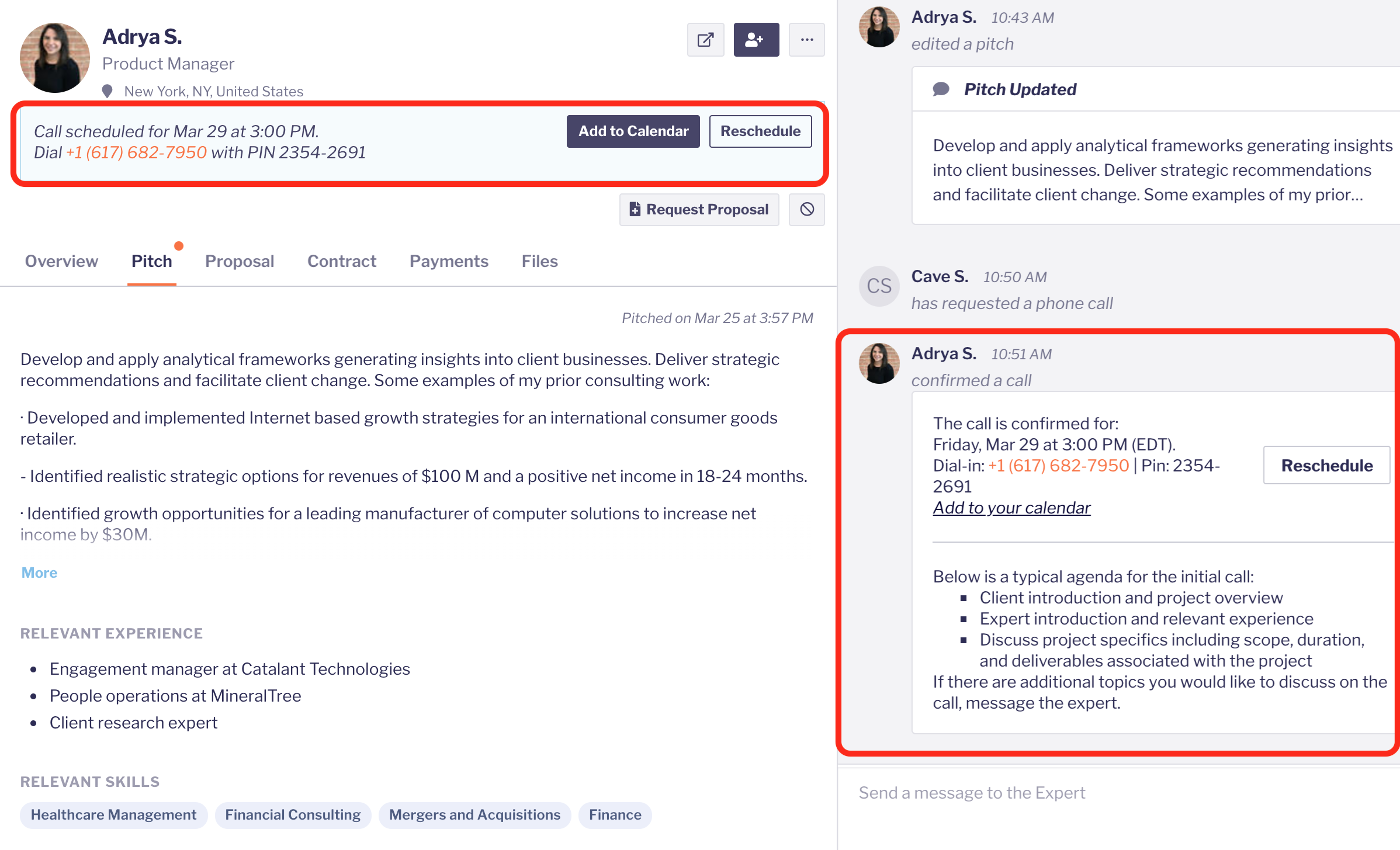 This call is an opportunity for the Client to share more details about the project and to learn more about the Expert's relevant experience. The typical agenda includes:
Client introduction and project overview.

Expert introduction and their relevant experience.

Open discussion of project specifics, including scope, timeline, deliverables, potential approaches, and budget.
If there are specific topics Client would like to discuss on the call, log in to the workspace and message the Expert before the call.


Consider Pricing
Client are encouraged to discuss budget or pricing sensitivity for a given project with Experts on the call to help align expectations. However, the fees will not be final until agreed upon in the contracting phase.
During the call, work with the Expert to discuss different packaging options that balance the budget, the deliverables required, and the timeline.
When thinking about the budget, note that the cost for the project not only includes the Expert Fee, but also the Catalant Fee, and any Project Expenses. For Client's convenience, we included a budget calculator in the call confirmation email. This budget calculator allows Client to enter the total budget, and see the breakdown of the Expert Fee and Catalant Fee.
Keep in mind that this calculator does not take expenses into account, and Project Expenses should be discussed with the Expert during the call.