To post a new project, clients can navigate to their dashboard to click "New Project," and will be routed to the project form.
Examples and skills recommender will help clients describe projects as they're guided through the four sections of the project need form:
Project Overview
Provide a title, description, and select a project category. When hovering over the project title and project description sections, helper text will appear on the right that will guide clients in naming their project and writing a compelling description.

Attach any additional documents that will help readers better understand the project.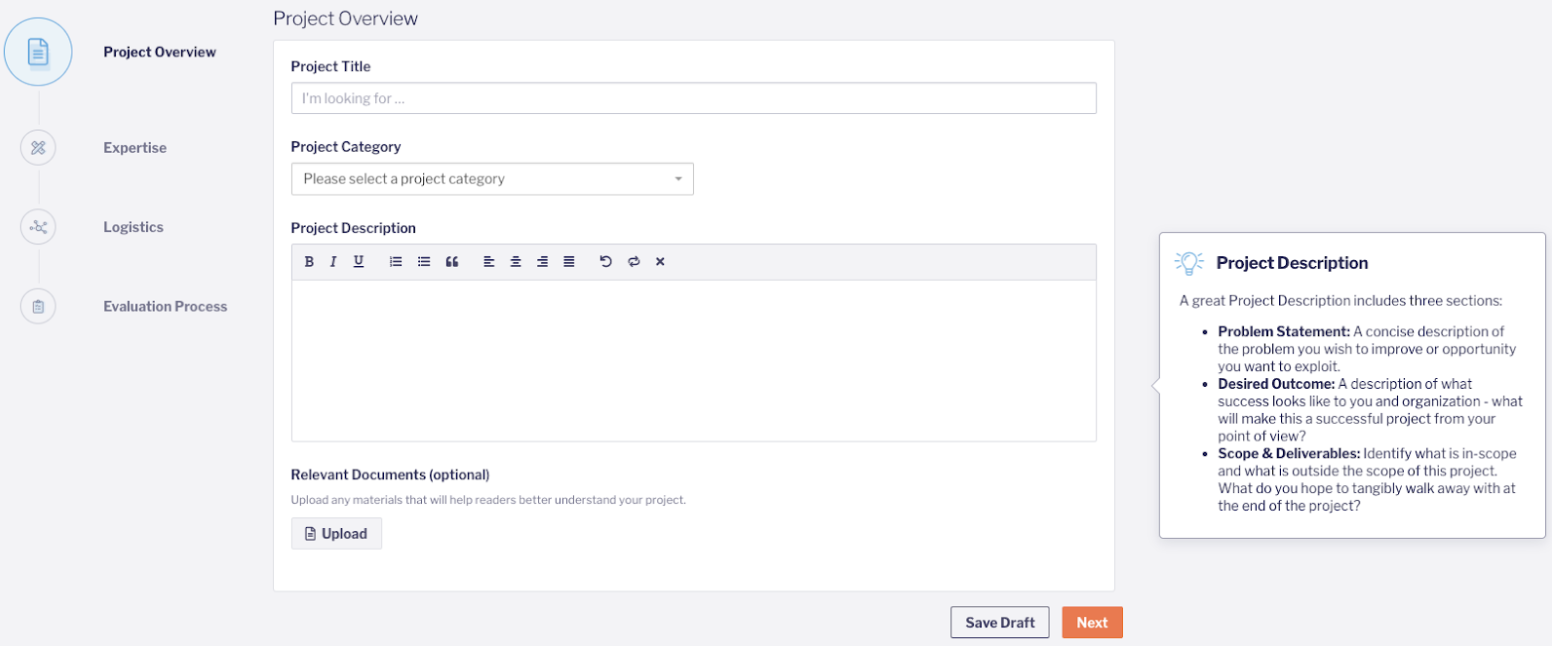 Expertise
Select if you'd like to engage a single person or a team or firm. If there isn't a preference, there is an option to select "I am not sure."

Choose background type (consultant, former operator, or industry specialist), specify industry experience, and select desired level of seniority

Optional. Specify past companies that are preferable for candidates to have had experience or former job titles to provide more specifics on the level of seniority

Enter relevant skills candidates should possess in order to complete your project. Skills will help Catalant recommend and match the right candidates to your project.

Catalant's skills recommender will also suggest relevant skills to add to the project based on information collected in the previous section of the need form, and any skills that have already been added.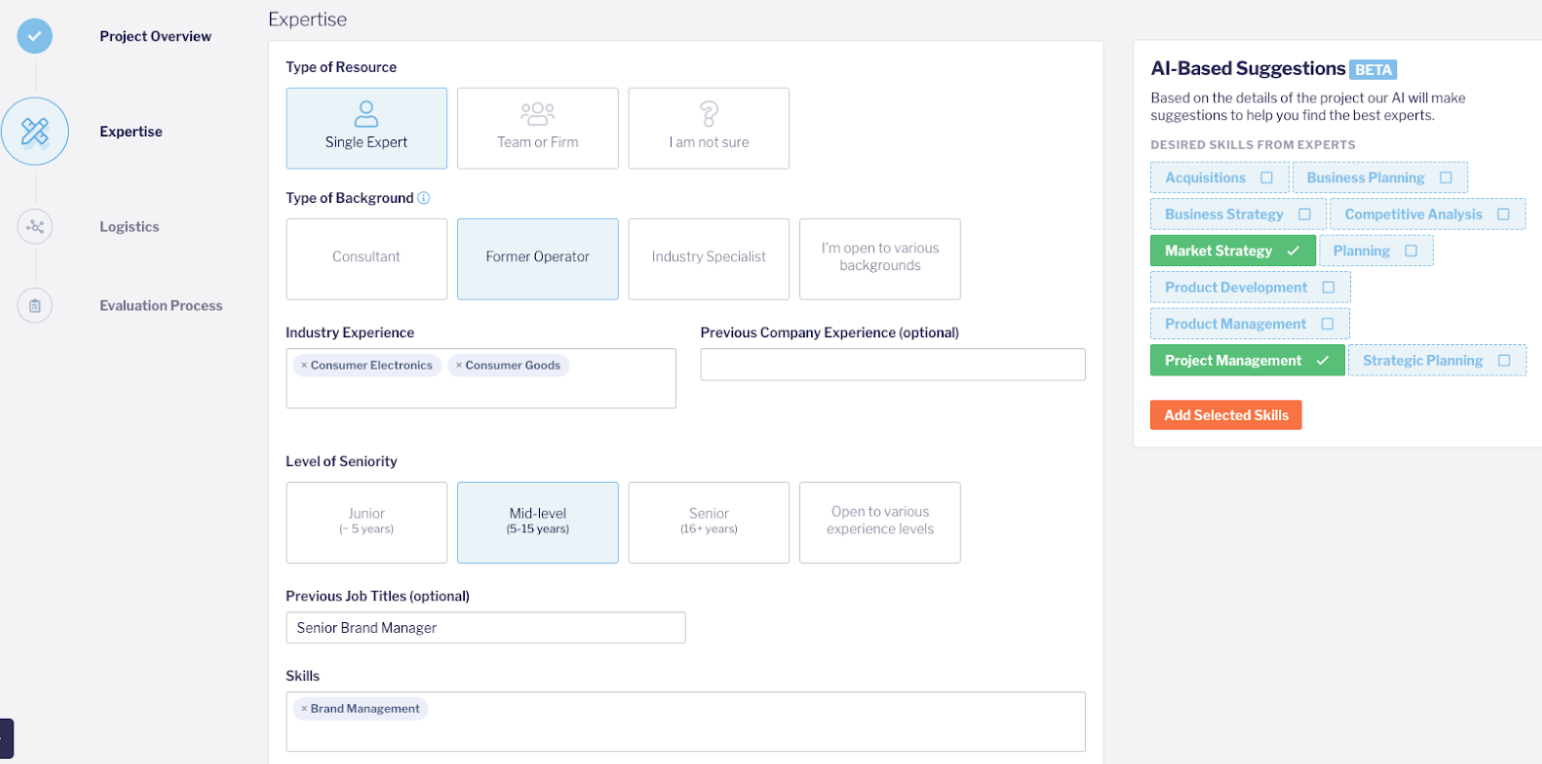 Logistics
Define an estimated start and end date for the project. There is the option to define general timeframe or provide specific dates.

Estimate the weekly time requirements for the expert(s) on the project.

Provide a budget range which will be visible to expert(s) as they browse projects and submit their pitch. Clients can also provide any additional budget requirements to share only with the Catalant team.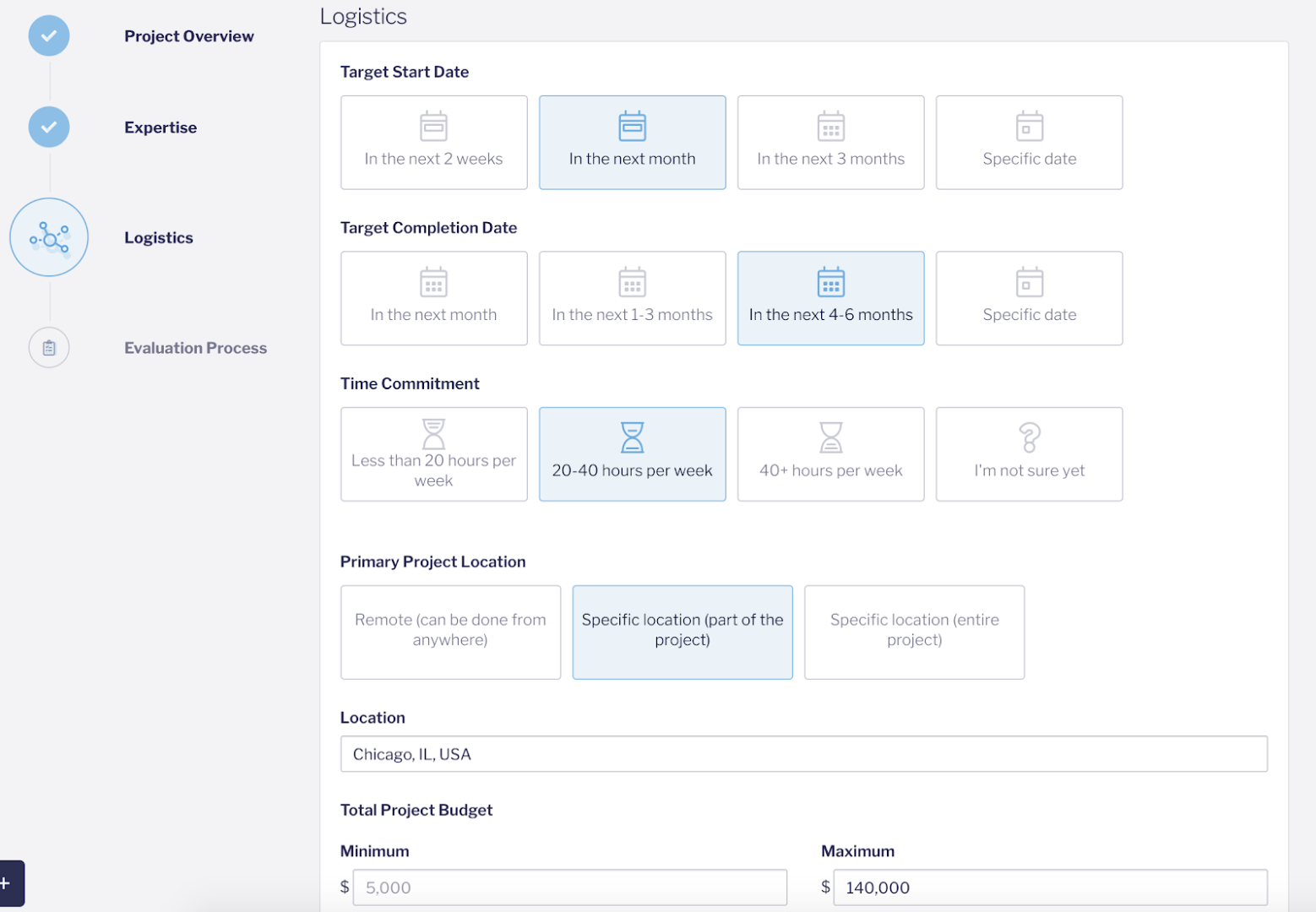 Evaluation Criteria
Clients specify when they would like to begin interviewing candidates. Clients can select a general timeline or specify a specific date that is aligned with their schedule.

Optional. Clients select any materials or information that they would like to include when pitching your project. This may include a resume or sample work product that will help you clients evaluation of potential candidates.

Optional. Select up to two evaluation criteria that are most important to when evaluating potential candidates. This will help Catalant surface the most relevant candidates.